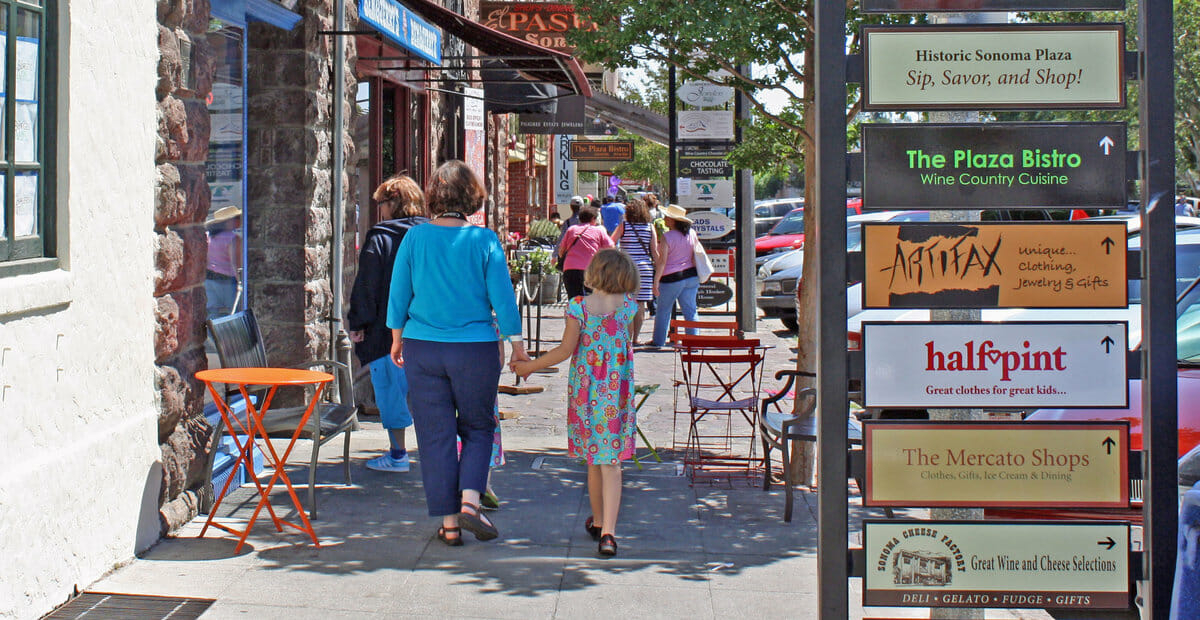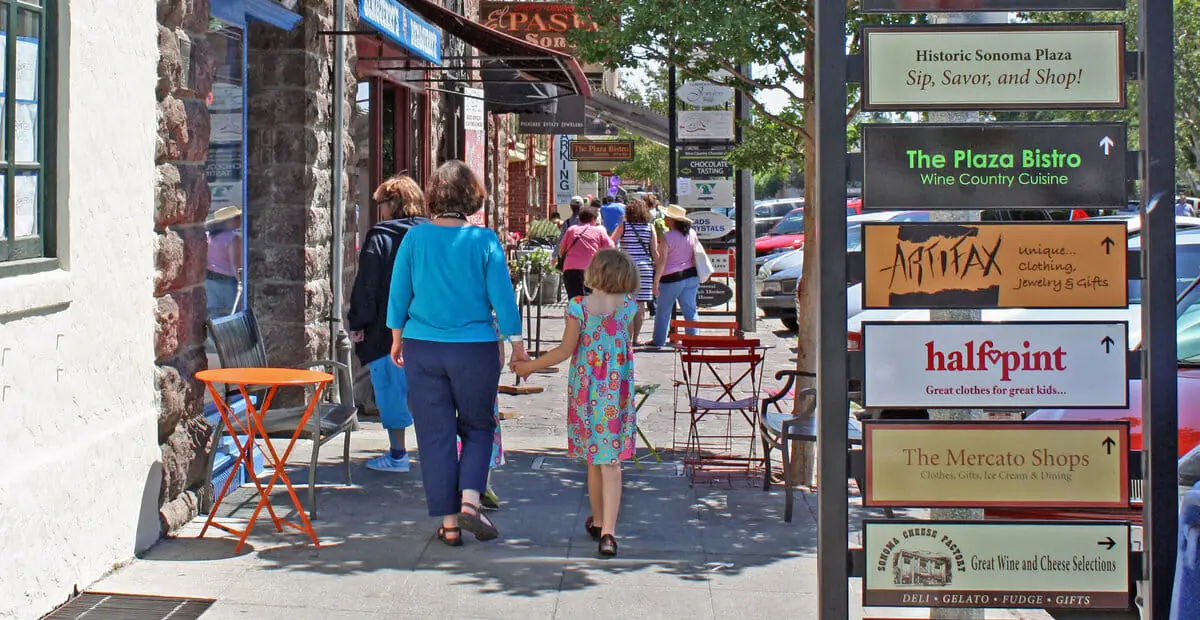 Just 40 miles north of the Golden Gate Bridge, the city of Sonoma and the surrounding Sonoma Valley provide the "perfect blend" of a friendly, small-town, wine-country community that's rich in history with the innovative, entrepreneurial culture of the San Francisco Bay Area.
Sonoma Valley is found in the scenic southeastern corner of Sonoma County, centrally located in the North Bay region.  Distances to nearby cities include: Napa 12 miles, Petaluma 14 miles, Santa Rosa 20 miles, San Rafael 26 miles, San Francisco 42 miles, Oakland 48 miles.
Construction is complete on the Sonoma Marin Area Rail Transit, a.k.a. SMART Train. Local bus service with routes to other Sonoma County cities is provided by Sonoma County Transit.
Nonstop air service to San Diego, Orange County, Los Angeles, Portland, Seattle, Las Vegas and Phoenix is available from Sonoma County Airport. The North Bay region is also served by international airports in San Francisco, Oakland, and Sacramento.
Tourism and agriculture are the major economic drivers for Sonoma Valley.  The online travel site TripAdvisor recently ranked Sonoma County as the top wine destination in the nation, and second only to Tuscany in worldwide rankings.
Birthplace of California's famed wine industry and home to more than 100 wineries and tasting rooms, Sonoma Valley is a destination favored by visitors from around the world for its food, culture, scenery and vitality.  It is estimated that close to a million visitors each year are attracted to Sonoma Valley's wineries, art galleries, historical sites, spas, restaurants, races, festivals and other special events.
More than 2,200 businesses are located in Sonoma Valley, with a total of almost 18,000 employees. Ninety percent of our businesses have ten or fewer employees, and almost 17% are home-based.
The largest private sector employers include the Sonoma Raceway, Fairmont Sonoma Mission Inn, St. Francis Winery, The Lodge at Sonoma, Sonoma Market, the girl & the fig restaurants and catering, MacArthur Place Hotel, and Sebastiani Winery.  Other major employers include the Sonoma Developmental Center, Sonoma Valley Hospital, and the Sonoma Valley Unified School District.  A growing number of employers can be found in the Valley's light industrial corridor along Eighth Street East, including manufacturers, distributors, and specialty foods producers.
Through our Economic & Business Development Services with the City of Sonoma, the Chamber provides resources for start-ups and assistance in finding a business location.  Contact the program manager for details.
If you are looking for a location elsewhere in Sonoma County please contact the Sonoma County Economic Development Board's Business Assistance Team.
Sonoma Valley Demographics
Median Age:  49.2 years
Age 21 and over:  79.5%
Age 65 and over:  25%
Hispanic or Latino:  15.3%
High School Graduate or higher:  95.3%
Bachelors Degree or higher:  39%
Total Households:  4,955
Households Owner-Occupied:  59.1%
Median Household Income:  $65,728
Mean Household Income:  $83,252
(2014 estimates)
Total Households:  15,580
Average Household size:  2.39
Median Household Income:  $56,675
Average Household Income:  $86,127
Per capita income:  $35,963
Median Age:  46.2
Percent under age 20:  22%
Percent age 20-64:  56%
Percent age 65+:  22%
Hispanic origin (any race):  29.7%
Owner-Occupied Units:   9,366
Rental Units: 6,214
(2014 estimates)
Total Households:  56,906
Average Household size:  2.61
Median Household Income:  $62,343
Average Household Income:  $87,277
Per capita income:  $33,245
Median Age:  41.6
Percent under age 20:  24%
Percent age 20-64:  58%
Percent age 65+:  18%
Hispanic origin (any race):  33.2%
Owner-Occupied Units:   34,183
Rental Units: 22,723
The quality of life in Sonoma Valley goes hand-in-hand with the high level of entrepreneurship.  Many local businesses were launched by people who came to visit and fell in love with Sonoma... or who grew up here and chose to make their living in the community.
In Sonoma Valley, the scenic countryside is complemented by experiences offered through wineries and tasting rooms, Zagat-rated restaurants, a PGA golf course, a world-class botanical garden and a year-round motorsports complex.  Opportunities to enjoy art, film, theater, music and outdoor activities are shared by the valley's 40,000 residents and visitors from around the world.  Our relaxed, small town environment makes the community attractive to your clients, customers, and employees.
Sonoma Valley's mediterranean climate makes it not only one of the world's finest grape-growing regions, but a great place to live and work. With high temperatures averaging 89 degrees in the summer and 58 degrees in the winter, Sonomans can be found enjoying the outstanding climate on the bike paths, local area parks such as Jack London, and at seasonal events like the farmers markets.
For more information about housing, schools, and other aspects of life in Sonoma Valley, see our relocation information below, or stop by the Chamber office and pick up a copy of our 2018-19 Community Resource Guide & Business Directory, along with other local publications like Valley of the Moon magazine. New Business Guide packets are available at both the Chamber offices and at City Hall on the Plaza.
Relocating to Sonoma Valley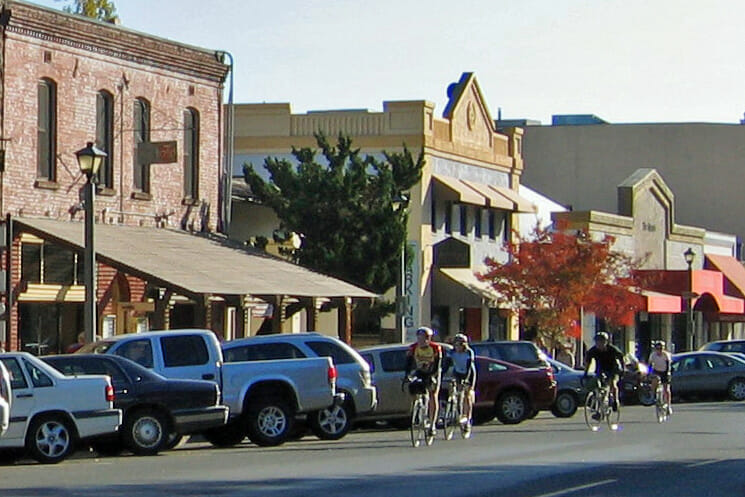 Housing & Real Estate
Whether buying or renting, Sonoma Valley offers housing options ranging from apartments and condominiums to single-family homes and senior living options, from farms to mobile home parks and work-live spaces.  We invite you to use Chamber member businesses as your resource for all of your real estate needs, from finding a home to financing a mortgage to making home improvements.
Education
The Sonoma Valley Unified School District (SVUSD) oversees five neighborhood elementary schools (K-5), two charter schools (K-8), two middle schools (6-8), a comprehensive high school, and an alternative education high school. The Kenwood School District oversees one elementary school. Several private schools serve children in Sonoma Valley, including St. Francis Solano School, The Presentation School, Sonoma Valley Academy, SoloQuest, Sonoma Academy, and Hanna Boys Center.
Local residents are served by two community colleges, Napa Valley College and Santa Rosa Junior College, considered one of the "jewels" of the California Community College System.  SRJC offers a strong general education program for students planning to transfer to four-year colleges and universities, along with more than 175 career skills certificate programs that prepare students for the workforce, including a highly-respected culinary arts program.
Sonoma State University, about a half hour away, offers degrees in 45 majors at the bachelor's level and 15 at the master's level, through school of Arts and Humanities, Business, Education, Social Sciences and Science and Technology. SSU is home to the new Green Music Center. The SSU School of Business & Economics offers undergraduate business and MBA programs as well as a Wine Business Institute, and actively partners with other regional organizations to grow the local economy.
Health & Wellness
Sonoma is very proud of its community hospital, recently named among the 15 safest hospitals in the country by Consumer Reports. Sonoma Valley Hospital provides a wide range of healthcare services including a brand new, state-of-the-art 24-hour emergency room and surgery center, along with a birthing center, rehabilitation center, occupational health, the Carolyn J. Stone Center for Women's Health and Wellness, and the new Compass Health Assessment Center.  The Sonoma Valley Community Health Center provides affordable, accessible health care to medically under-served residents.  Sonoma County was recently ranked in the top ten healthiest counties in California.
Over the years, Sonoma Valley has attracted numerous health care and fitness professionals in traditional and alternative fields, giving residents an abundance of treatment options.  Excellent dental, eye, skin, and hearing care are also widely available.  We invite you to consider Chamber member businesses and organizations for all your health-care needs.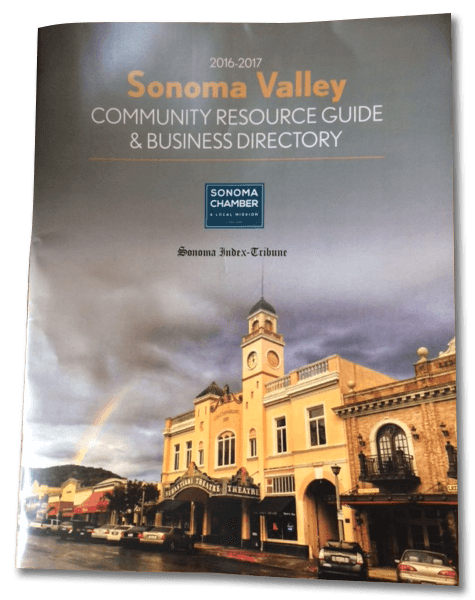 Relocating to Sonoma Valley? Pick up the lastest copy of the Sonoma Valley Community Resource Guide at the Chamber offices, 651 Broadway.